Embark on the Edmonds Ferry! Experience a stunning and unique ride via Edmonds Ferry. Passengers have been cruising from Edmonds to Kingston since 1951, taking in all of Puget Sound's beauty along the way. Get ready for an unparalleled journey- make plans today and ignite your adventure! Keep reading to explore each marvelous moment you could enjoy aboard the Edmonds Ferry.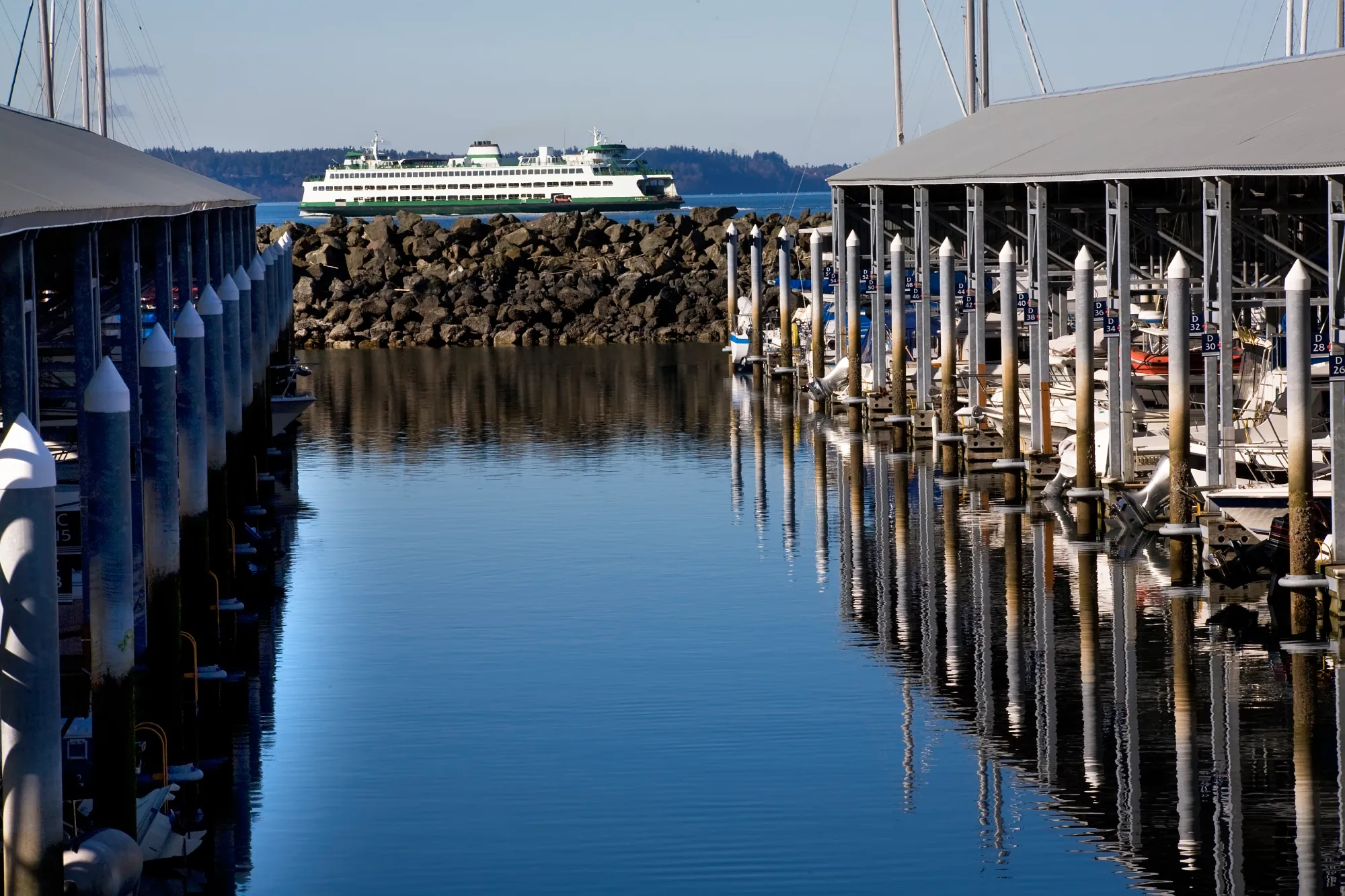 Edmonds Ferry
The Edmonds Ferry is a key way of connecting commuters and travelers between the towns of Edmonds and Kingston. Offering daily trips, it enables passengers to arrive at their destinations quickly.
To maintain a successful schedule, it is vital to keep both the locals and visitors updated on any changes or updates. This can be done through several media outlets such as online sites, phone apps, and classic schedules posted at the docks.
The Edmonds Ferry Schedule provides all essential details related to its operation such as departure timings, number of trips per day etc. These details help people plan their day accordingly without having to worry about delays or cancellations.
In addition, by offering up-to-date information on both ferries (Edmonds-Kingston) travelling between these towns ensures that travelers are able to get where they need with minimal frustration from changing schedules.
By keeping this vital resource functioning efficiently with current technology based scheduling systems allows travelers arrive safely while minimizing travel time during peak periods through accessible means makes using this form of transportation more accessible then ever before- particularly in these times when social distancing has become an issue in public areas like buses/trains, etc.; ferry rides allow individuals freedom from cumbersome transit issues so prevalent today!
Overall, staying informed about the Edmond's Kingstone schedule means arriving at your destination more refreshed and ready for your adventure after experiencing one peaceful journey over tranquil waters – making each ride an experience worth remembering!
Edmonds Ferry Schedule
Those frequently traveling between Edmonds and Kingston must have access to the up-to-date ferry schedule. Fortunately, various options are available for obtaining this essential information. Please see the tables below for the latest Edmonds to Kingston ferry schedule.
Depart Edmonds
5:35 AM M-Sa
6:10 AM M-SxH
7:10 AM
7:55 AM
8:50 AM
9:35 AM
10:20 AM
11:05 AM
11:55 AM
12:40 PM
1:35 PM
2:25 PM
3:15 PM
3:55 PM
4:45 PM
5:25 PM
6:15 PM
7:00 PM
7:40 PM
8:30 PM
9:05 PM
9:50 PM FSSH
10:25 PM
11:10 PM FriSun
11:45 PM
Edmonds to Kingston 2023 Ferry Schedule
M-Sa: Mondays through Saturdays Only
M-SxH: Mondays through Saturdays except holidays
FSSH: Fridays, Saturdays, Sundays, and holidays only
FriSun: Fridays and Sundays only
The Washington State Ferries' official website is a great source of timetables that can be accessed remotely with an internet connection. Alternatively, there are apps which enable riders to plan their trips more effectively since they deliver real-time updates on ferries' positions via GPS technology.
It should still be taken into consideration that unexpected disruption could occur due to natural disasters or other issues; therefore it makes sense to double check your departure time before heading out and take any extra travel duration required into account as precautionary measure.
By staying informed about the latest Edmonds Ferry Schedule updates through these reliable sources mentioned above , travelers can enjoy a smooth trip without any hassle or inconvenience along their way.
Three Safety Tips for Riding the Edmonds Ferry
Safety should always be a top priority when riding the Edmonds Ferry. Here are three tips to help ensure a safe and enjoyable journey.
Firstly, always pay attention to safety announcements and guidelines provided by crew members. These professionals have undergone extensive training in order to keep passengers safe during their travels, so it's important to follow their advice closely.
Secondly, make sure you wear comfortable shoes with good traction while on board. The ferry can be subject to choppy waters at times which may affect your balance if you're wearing unsuitable footwear.
Lastly, try not rush too much while getting on or off the ferry. Take your time and use handrails where possible as they will provide extra support for those who need it.
By following these simple but effective safety tips, riders of the Edmonds Ferry can enjoy their journey without having any unwanted accidents or injuries along the way.
Four Scenic Destinations on the Edmonds Ferry Route
The Edmonds Ferry route offers breathtaking views of the Puget Sound, with several scenic destinations along the way. Passengers can sit back and relax as they sail across the water, taking in stunning vistas that showcase the natural beauty of this region.
One must-visit destination on this route is Kingston, a charming town on the Kitsap Peninsula. With a thriving arts scene and plenty of outdoor recreation opportunities, Kingston has something for everyone. Visitors can explore local galleries and shops, hike through lush forests or spend time at one of many beaches.
Another scenic stop on this ferry route is Port Gamble – a historic town that was once home to one of Washington's earliest sawmills. The town boasts beautifully preserved Victorian buildings and offers visitors an opportunity to step back in time while exploring its unique history.
Eagle Harbor also makes for an ideal stopover while sailing across Puget Sound via ferry from Edmonds or travelling towards it from nearby areas around Seattle like Ballard by taking advantage cabs near Ballard locks which will take them straight away over their destination without any delay caused by traffic jams around downtown Seattle during rush hours . This picturesque harbor features quaint homes nestled among towering trees alongside pristine waters perfect for kayaking or paddle boarding enthusiasts alike.
Last, but not least , Bainbridge Island provides yet another idyllic locale where nature lovers can frolic amidst stunning landscapes dotted with lush foliage year-round . Its magnificent parks boast dense woods tailor-made terrain accommodating multiple adventure sports , bucolic waterfronts overlooking majestic mountain ranges beyond azure seas stretching outwards into infinity giving visitors memories worth cherishing forever.
With so much natural beauty surrounding you throughout your journey onboard an Edmonds-Kingston ferry schedule there has never been more reason to take some well-deserved downtime recharging batteries amidst such splendorous vistas available just steps away from each port o' call along King County
The History of the Edmonds-Kingston Ferry Route
The history of the Edmonds-Kingston ferry route is a fascinating tale that spans over 100 years. The first steamboat service between the two cities began in 1913, when a local entrepreneur named Emil Rathe purchased the wooden-hulled vessel "City of Kingston" and put it into service.
Over the years, various companies have owned and operated ferries on this route, including Black Ball Line (which later became Washington State Ferries), Kitsap Transit, and currently Pierce County's Transportation Department. The boats themselves have gone through numerous changes as well – from simple wooden vessels to modern steel-hulled ships with state-of-the-art amenities.
But despite all these changes over time, one thing has remained constant: the importance of this ferry service to both communities. For residents who live on either side of Puget Sound, it provides a vital transportation link that connects them with jobs, schools, and other essential services on each side.
The Edmonds-Kingston ferry route also plays an important role in connecting Western Washington with Vancouver Island and beyond – for example, the Coho Ferry operates from nearby Port Angeles to Victoria BC.
In recent times, the demand for travel between Puget Sound has risen as people from either side look to find cheaper living accommodations outside Seattle's congested neighborhoods.
Thanks to improvements in technology such as online ticketing systems and AI-based scheduling software combined with newer, accelerated vessels providing a more comfortable ride experience; it is now simpler than ever before for passengers using Edmonds Kingston Ferry schedule or any other special seasonal passenger services even during busier hours – these resources aid keeping movement at an optimal level guaranteeing that travelers arrive/depart each stop on time creating a journey which is both pleasant and efficient.
Furthermore, just recently WSF declared plans of releasing hybrid electric boats very soon making ferry commuting much friendlier to the environment.